3 Facts and stats on Dave Leduc !

Dave leduc won his first championship in lethwei in 2016 and since then I have been receiving many messages asking me all kinds of questions on the champ. Being Dave's coach since he was 16 years old means i have most of the anwers to the basic questions and « insider » knowledge on upcoming events and fights. I also had a chance to read up on some of the comments on interviews, and fight videos on social media. I felt that it would be informative to answer the most common questions i receive and set the record straight.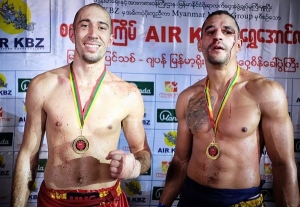 Dave and Correntin Jallon after their Lethwei battle. 
How tall is Dave ? 6'5 , 6'7, 6'8?? How much does he weigh? 200, 210, 215 pounds?
I get asked these two questions the most. Dave is Tall, and has a good reach, BUT he is still only 6'2 and has the average reach of a 6'2 guy. His walk around weight is only 180-85 pounds/ 80kg . His last fight in myanmar he was 174 lbs / 79kg 2 days before the fight and he ate steak and a oven made pizza the night before the match. The « open weight » fights are often at a set weight of 180 pounds. I often read about the « huge height and weight advantage he has ». Dave has faced varied body types in his fights, Tun Tun Min is 5'10 and 80kg and also cuts some weight to be 180 pounds, French kickboxing champ Correntin Jallon ( 6'3 205 pounds/93 kg) is actually bigger than Dave. Muay Thai champ Sudsakorn is also 5'11 and was at 180 pounds/ 80 kg for their duel in Japan.Cyrus Washington is 5'11 and weighed 176pds /80kg also.  We see guys in the UFC that are very tall and have had limited success, a recent fight that comes to mind is Darren Till ( 6'2 ) vs Jorge Masvidal (5'10) in a fight where Masvidal knockout out his taller, heavier opponent. Dave uses his lanky frame well but actually does most of his best work at close range. The bottom line is Dave is often a few inches taller, in some cases pretty much the same height, but all the time him and his opponents are the same weight and some actually weighed more than him at fight time.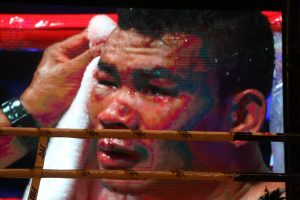 Too too in between rounds in Dave's first lethwei fight. 
2. Where did he learn to fight for « lethwei » before going to myanmar?
This question is often send to me by fans from Myanmar. Dave started training at age 17 ( 11 years ago) and actually for the first year did mostly no gi grappling then adding sanshou kickboxing and Fang Shen Do techniques to his training.  Dave picked up on striking very quickly and started training  7 days a week and we did 2 private sparring session weekly. He did his first amateur fights at 19 and went pro very quickly ( 3 amateur bouts) and got 5 MMA fights ( record of 3-2 ) and did  1 trip in thailand where he built a 4-1 muay thai record. At 22 years old Dave told me about wanting to focus on standup fighting only. Being a lifelong martial artist   » burmese boxing » was something I had read, researched and watched for a long time. I showed videos to Dave when he started and he always told me he wanted to fight in that style one day! We always trained with the Lethwei style fighting in mind from early on. Incorporating and blending Jeet kune do concepts, sanshou, Fang Shen Do techniques  and our street fighting mentality  into his arsenal of weapons.  After winning the sponsorship  from Tiger Muay Thai, winning his prison fight match and having fought to a 14-1 muay thai record, Dave was asked to fight in Lethwei vs Too Too who was undefeated ( 34 wins) at 75kg  in august 2016.  Dave's fighting style is best described has Patenaude's Fang Shen Do adapted to Lethwei. He has done great work immersing himself into the culture, history, and traditions of Lethwei and prides himself in being a ambassador for the art and Myanmar.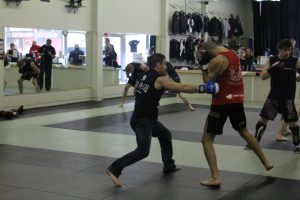 Dave and myself sparring in one of countless rounds we've done! 
3.  This question I get asked mostly by people here in Canada  » What are the  fight records/titles held  by Dave's opponent's? 
Most of the opponents he has faced are champions or have fought in high caliber leagues in asia and europe.  But in canada they are not well know since mma and boxing are main stream and  the popular combat sports.  Tun Tun Min has over 80 wins, Too Too 34 wins and are widely considered the two top fighters in Lethwei from Myanmar. Sudsakorn has over 70 wins and a 2 time Max Muay thai champion, Cyrus Washington is a former ISKA north american muay Thai champ, Tae Know Do champion and has fought a who's who of fighters.Thai fighter Diesellek owns close to 130 wins and is a former Stadium muay thai champion and world title holder, Correntin Jallon WKB champion with a 33-14 recors when he and Dave fought in 2017. Dave's next opponent in the WLC will likely be a former UFC fighter or K1 champion.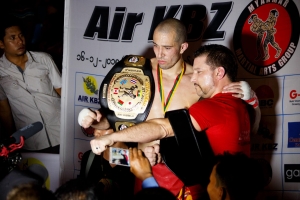 Awesome energy in the stadium that afternoon in Myanmar vs Tun Tun Min last december.
These are the 3 most common questions I get asked via my facebook, hopefully this will help give answers in more detail . I would like to finish with thanking everyone who has supported Dave, as well as taken an interest in myself ( along with our team) since the beginning with your positive comments, attending seminars and following us on social media. I always knew Dave would be a top tier fighter and that he had a unique fighting style. I am very happy and humbled by all the attention and energy we have received from the people of myanmar and fight fans around the world.
Sifu Patrick
Patenaude Martial Arts
https://gatineau.patenaudemartialarts.com/wp-content/uploads/sites/13/2018/08/39585267_1724566667612352_1737446066598445056_n.jpg
640
960
gatineau
https://gatineau.patenaudemartialarts.com/wp-content/uploads/sites/13/2017/03/pma-logo-black-FR.png
gatineau
2019-03-26 21:54:22
2019-03-28 09:36:48
3 Facts and stats on Dave Leduc !