The « Lethwei experience » with a super striker!

Dave Leduc was recently in Canada for a little over a month of training with his long time coach and team in Gatineau, Quebec. He also headlined the first series of Lethwei seminars  » The Dave leduc experience » in some of the best martial arts gyms from Quebec city all the way to New Brunswick. The Open Weight Champion shared some of his fighting techniques and tactics along with conditionning drills that helped him defend his title 5 times in 2017. Leduc started martial arts in Gatineau almost 10 years ago under the tutelage of Sifu Patrick Marcil of Patenaude Martial Arts. His training in Fang Shen Do, Jeet Kune Do concepts and Sanshou kickboxing forged a unique arsenal and skill set for Dave to use fully in the Lethwei ring. During the seminars Dave exchanged energy and even sparred some of the participants showcasing his abilities and giving « hands on » training. Dave also took full advantage of his stay and trained several times privately with his coach Sifu Patrick, working on fighting techniques, conditionning and some solid sparring rounds.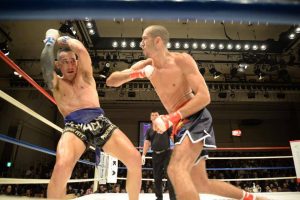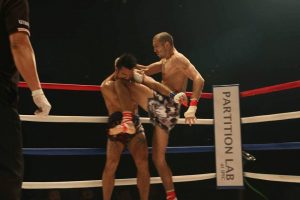 Dave always « Brings it » in his matches and uses a wide range of techniques. 
For those of you who haven't heard of Dave yet, here are some of his career highlights thus far:
– 14-1 pro muay thai record (12 ko's)
– 3-0 k1 style kickboxing
– Gold medal WKU k1 2015
– Undeafeated in 8 lethwei bouts, current Open Weight champion
– 5 title defenses in 2017
– He has faced top level opponents that total more than 300 wins and various championships in muay thai, k1 and Lethwei . Fighters such as Cyrus Washington, Correntin Jallon, Sudsakorn, Too Too and Tun Tun Min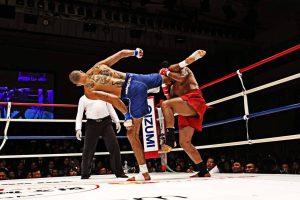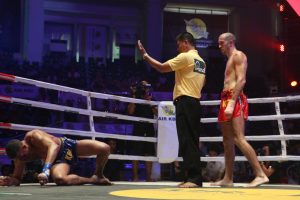 Lethwei has always been extremely popular in Myanmar, and its audience has grown quite a bit worldwide since 2016. With a champion like Dave Leduc leading the way, its only a matter of time before the most brutal form of kickboxing in the world , the « art of nine limbs » of Myanmar becomes known, respected and practiced all around the world.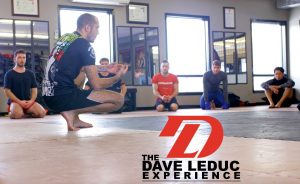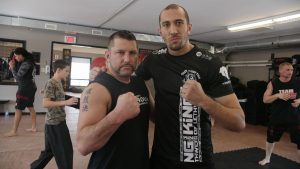 Dave during the seminar in his  » home  » in Gatineau. « The King » with his coach and mentor Sifu Patrick at Patenaude Martial Arts. 
For more details on the various seminars with Dave visit his facebook page « The Dave Leduc experience ». You can also contact him via his Dave  » The Nomad » Leduc fan page.
For information on seminars and training programs with his coach Patrick Marcil, message him via his facebook page, or visit the school's page Arts Martiaux Patenaude Gatineau. You can also reach him at 819-663-9929 directly.
Keep blasting forward!
https://gatineau.patenaudemartialarts.com/wp-content/uploads/sites/13/2018/01/24831062_1445985528803802_5011618933375591691_o.jpg
2048
1447
gatineau
https://gatineau.patenaudemartialarts.com/wp-content/uploads/sites/13/2017/03/pma-logo-black-FR.png
gatineau
2018-01-14 21:20:06
2018-01-14 21:21:40
The « Lethwei experience » with a super striker!